Tortoise Shell--Easy Faux Technique Instructions
Hand Painted on Porcelain.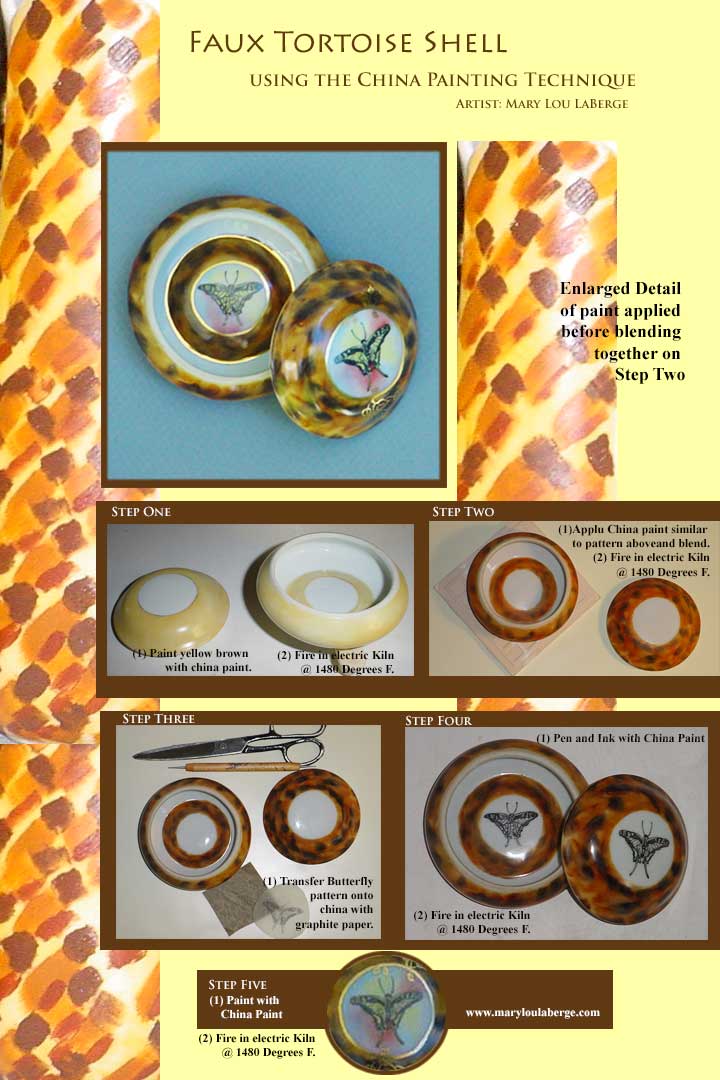 THE PLAN
I wanted to decorate the surface of a white porcelain bowl and lid with a rich texture resembling tortoise shell. This was an experimental technique that happened to fire successfully. The Swallowtail butterfly was drawn with pen and ink, layered with china paint. Lastly, a delicate layer of liquid brite gold was applied to the lid and inside of the bowl. Liquid Brite Gold is also known as Gold Luster.
PREPARATION
Clean the surface of your china with soap and water or denatured alcohol. Remove any labels from your china that might burn off in the kiln. It's easy to forget this step because the labels are often hidden on the underside of the china.
The butterfly was adapted from one of my photographs of a Swallowtail. There are plenty of free clip art butterflies online for use on personal projects. After sizing the butterfly to fit within the circle, it was printed onto a piece of tracing parchment. You can also trace a butterfly onto parchment paper with a pencil or pen. Other fun alternatives would be to use beautifully patterned moths or a dragonfly which would also complement the tortoise shell finish. Save your drawing for use later in the instructions.
HAVE FUN PAINTING

Tortoise Shell Technique
First Fire
Paint the surface of your porcelain with yellow brown. Paint evenly, however it isn't necessary to paint a perfectly smooth surface.
Fire at Cone 014.

Second Fire
Before painting observe step two and the enlarged drawing. First paint 1/4"stripes (approximate measurement) using Pecan in the area intended for the tortoise shell. Next use red brown and paint a stripe right next to the pecan stripes. Next using dark brown and black place a dot at the top of each stripe.

Now use a large flat shader brush and with extremely light pressure blend the paint together. Refer to example photograph on step two.
Fire at Cone 014.

Pen and Ink the Butterfly
First Fire
Refer to photo on step four. Place a piece of graphite paper onto your porcelain. Lay your butterfly drawing on top of the graphite paper and then use a stylus to trace around the butterfly.


Now it is time to pen and ink the butterfly. Use your favorite pen oil with black china paint and a fine tipped calligraphy pen and draw the butterfly onto the porcelain surface.

If you don't have a pen oil recipe try mixing black china paint with 7up to a consistency that is easy to pen onto your design. Let the pen work dry and then fire at Cone 014.

Second Fire
Paint around the background of the butterfly with any colors than appeal to you. Then paint the butterfly with mixing yellow.
Fire at cone 014.

Liquid Bright Gold

When using liquid bright gold (LBG) use separate tools. For instance, avoid using the same pen for your china paint that you use for gold work. Use a pen dipped in liquid bright gold to create the details on your box.
Fire at Cone 017.

E-mail: 💌 marylou@maryloulaberge.com

© 2010-2021 Mary Lou LaBerge